Important Voluntary Safety Recall.
EarthsafeCA, EvaClean Recalls Lithium-ion Batteries Used With Electrostatic Sprayers
Recall Summary
This is a voluntary recall of the batteries used in our Earthsafe CA, EvaClean sprayers in accordance with Consumer Products Safety Commission (CPSC) and Health Canada regulations. We have become aware that in rare cases, the battery packs used in Earthsafe CA, EvaClean brand hand-held and backpack electrostatic sprayers can pose a fire hazard that may result in personal injury and/or property loss.
We are addressing this issue as quickly as possible to ensure our product is consistent with the quality we expect and our customers deserve.
Name of Products Using Recalled Batteries
Earthsafe CA, EvaClean Protexus Electrostatic Sprayers
Remedy
Replace battery pack.
Consumers should immediately stop using the recalled sprayers - remove the battery and dispose of it in accordance with local laws for disposal of lithium-ion batteries and contact Earthsafe CA, EvaClean for a free replacement battery pack, including shipping. See details below for online registration of replacement batteries.
Consumer Contact
Phone: US & Canada: Call Earthsafe CA, EvaClean toll-free at (866) 666-2305 option 3 Monday to Friday from 8 a.m. to 5 p.m. ET.
Online: If your battery is affected under the recall, please submit your battery claim to https://www.es-sprayerbatteryrecall.expertinquiry.com/.
If you have any follow-up questions about recall batteries, please email warrantyteam@earthsafeca.com.
Description
This recall involves Earthsafe CA, EvaClean Protexus-branded cordless handheld and backpack electrostatic sprayers used to disinfect surfaces. They come with a nozzle, nozzle wrench, tank, lithium-ion battery pack and battery pack charger. The Earthsafe CA, EvaClean cordless sprayers have a white exterior. The Protexus logo appears on the front or the side of the white sprayers and model PX20A or PX20B appears on the battery back. Battery packs on recalled units have visible screw heads and a case with no parting lines.
HOW TO IDENTIFY AFFECTED INDIVIDUAL BATTERIES FROM PRODUCTS
Please use the battery pictures (fig. 1 & 2) below to help visually identify Affected battery packs.
Once you confirm it is Affected, you will then need to check the Model shown on the decal (fig.3) to identify if it is a Standard battery that comes with the unit or if it is the high-capacity 2X optional battery.

The last letter of the Model will be an "A" for the standard battery of a "B" for the high capacity battery.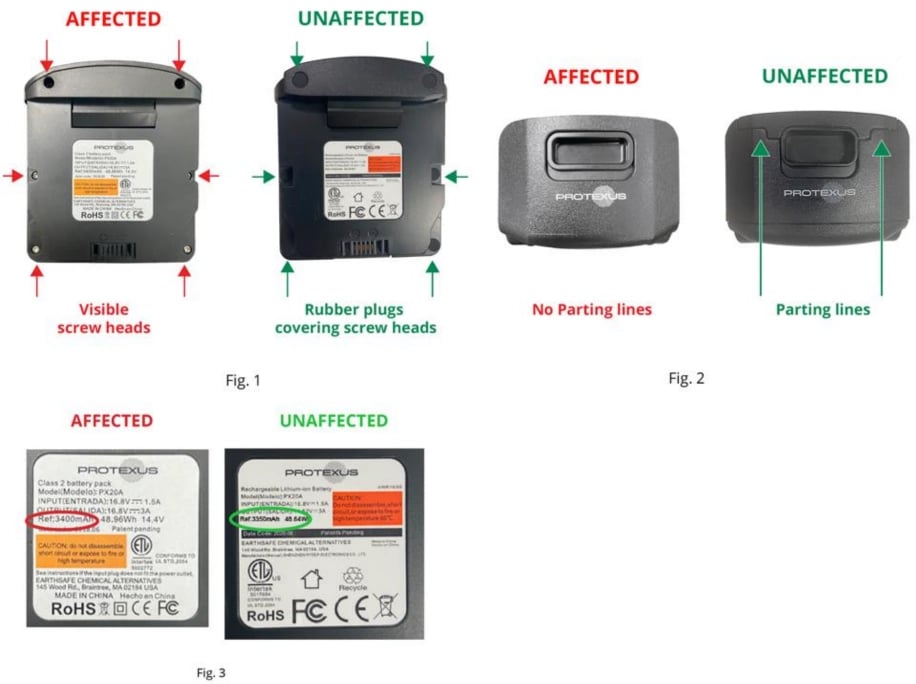 HOW TO IDENTIFY AFFECTED INDIVIDUAL BATTERY ACCESSORIES
All affected batteries will either show 3400 mAh, or 6800 mAh on the front of the carboard box.
The non-affected batteries will show either 3350mAH, or 6700 mAh.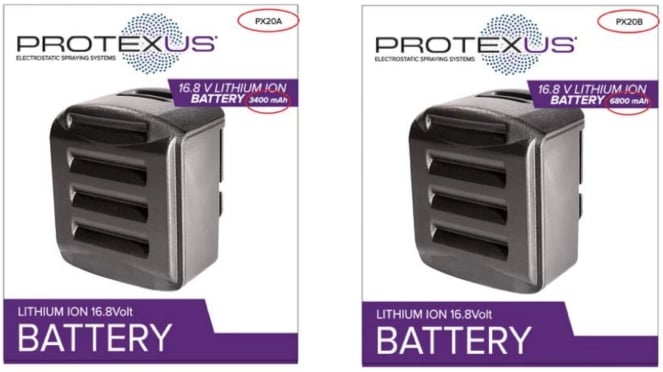 Earthsafe Chemical Alternatives, together with the Manufacturer through PHMSA and
EPA, work to ensure we meet all proper federal regulations.
Please note that it is a violation of Federal Law to sell, offer for sale, any product covered by this recall.