Read the abstract
PurTabs Efficacy Confirmed
NYU Langone confirms efficacy of PurTabs NaDCC disinfectant in new health study.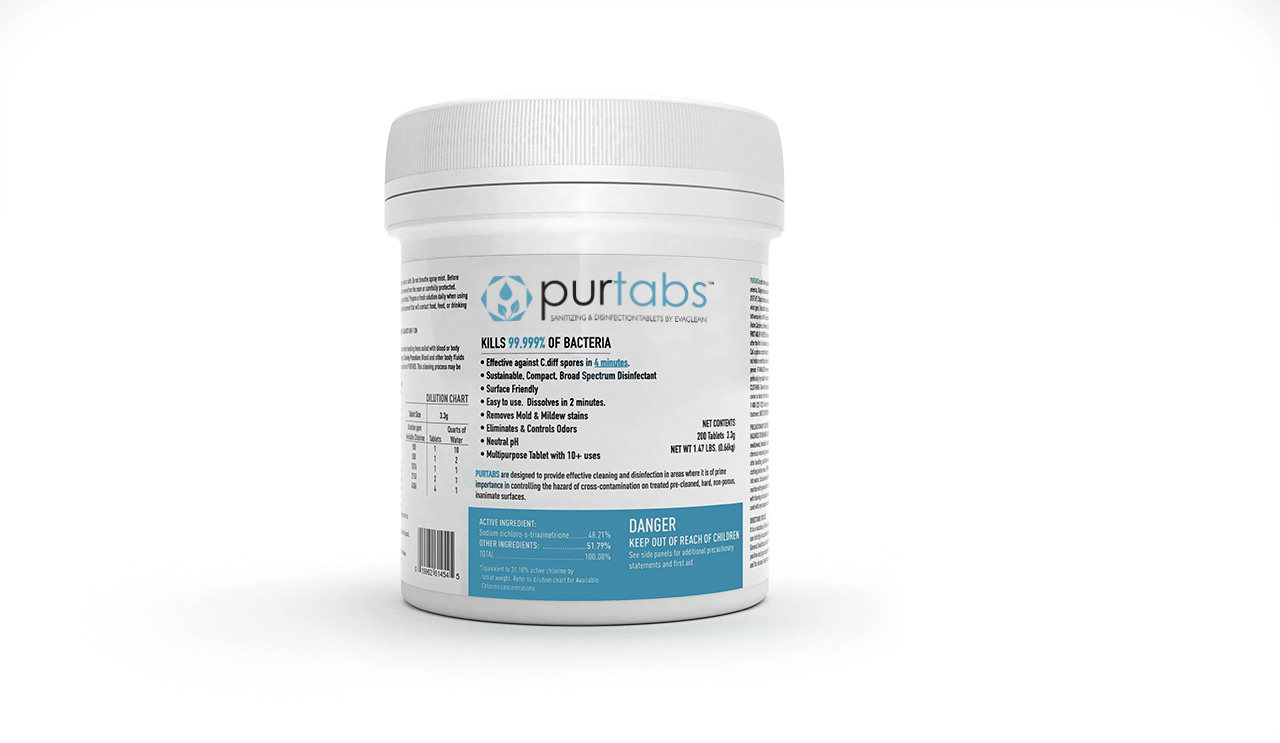 PurTabs

The Evaluation of Electrolyzed Water, Sodium Dichloroisocyanurate and Peracetic Acid with Hydrogen Peroxide for the Disinfection of Patient Room Surfaces
Published: June 28, 2022
Sadie Solomon, BS

Anna Stachel, PhD MPH CIC

Anne Kelly, RN

Joe Mraz

Peter Aguilar

Julia Gardner, MBA BSN

Judith Medefindt, RN CIC

Amy Horrocks, MHA FACHE

Stephanie Sterling, MD MPH

Maria Aguero-Rosenfeld, MD

Michael Phillips, MD
---
ABSTRACT
Sporicidal disinfectants are necessary to control
Clostridioides difficile
and
Candida auris
. Novel application methods such as electrostatic sprayers may increase disinfection effectiveness. We employed a standardized protocol to assess three sporicidal disinfectants: electrolyzed water (EW), sodium dichloroisocyanurate (NaDCC) and peracetic acid/hydrogen peroxide (PAA/H
2
O
2
).
---
Methods
The study was conducted at two New York City hospitals (1,082 total beds) over an 18-month period. The three chemicals were applied by housekeeping personnel following the hospital protocol; the use of electrostatic sprayers was incorporated into EW and NaDCC. In randomly selected rooms, five surfaces were sampled for microbial colony counts after cleaning. Data analyses were performed using negative binomial logistic regression.
Results
We collected 774 samples. NaDCC-disinfected surfaces had a lower mean colony count (14 CFU) compared to PAA/H2O2 (18 CFU, p=0.36) and EW (37 CFU, p<.001). PAA/H2O2 and EW had more samples with any growth (both p<.05) compared to NaDCC. NaDCC applied with wipes and an electrostatic sprayer had the lowest number of samples with no growth and <2.5 CFU/cm2 (difference not significant).
Conclusions
The use of NaDCC for surface disinfection resulted in the lowest bacterial colony counts on patient room high touch surfaces in our study.