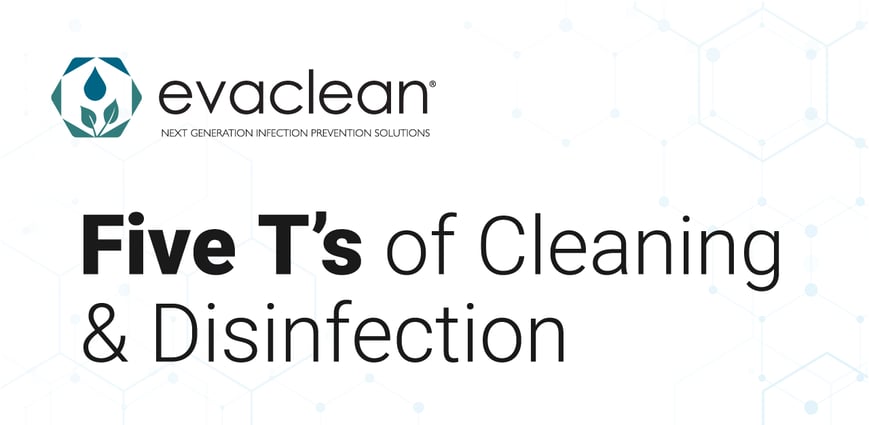 June 15, 2022 | Blog
EvaClean Insights Q & A
This issue features Part II of a multi-part Q & A series with J. Darrel Hicks, BA, MESRE, CHESP, CMIP on the topic of cleaning and disinfection of environmental surfaces. Hicks is past President of the IEHA and the Healthcare Surfaces Institute (HIS), and a current member of the HIS Surface Certification Program. He is a nationally recognized subject matter expert who has published numerous articles in professional and healthcare journals and is the author of "Infection Prevention for Dummies."
EC: What are best practices for safe, clean, and disinfected procedures?
DH: Routine cleaning is necessary to maintain a specific measure of cleanliness and must be consistent and effective to reduce the transmission of microorganisms. Frequency of cleaning is dependent upon the risk classification of the surface, item, or area. For example, objects/surfaces that are touched by many individuals should be cleaned at least daily, while items that are primarily touched by one person may only need periodic cleaning.
'Hospital Clean' is considered the highest level of cleanliness. Non-healthcare facilities typically follow less stringent guidelines. For example, 'Hotel Clean' is a measure of cleanliness based on visual appearance that includes dust and soil removal and cleaning touchpoints. Hotel Clean is cleaning to the point that it protects human health and reduces risk of disease. While cleaning alone does not kill germs, it does decrease the number of germs to an acceptable risk level. Hotel Clean components include ensuring floors, walls, ceilings, and all horizontal surfaces are free of visible dust and soil, as well as bathroom fixtures and common areas with high-touch surfaces.
Hospital Clean incorporates all the components of Hotel Clean with the addition of more frequent cleaning and disinfection, auditing, and other infection prevention/control measures, primarily focused on patient care areas. Healthcare facilities must have policies and procedures to ensure that cleaning standards and accountability are clearly defined (i.e., who cleans what and when), and set cleaning schedules so no area or item is missed. The added components of Hospital Clean include using a hospital-grade, EPA-registered disinfectant for high-touch surfaces in patient care areas and non-critical care equipment in between patients. Cleaning practices should be regularly monitored and audited with feedback and education as needed.
EC: Is it possible to effectively clean and disinfect all surfaces in a facility in the typical time allowed?
DH: The Association for the Healthcare Environment's Practice Guidance for Healthcare Environmental Cleaning recommends that a total facility cleaning standard should be agreed upon by environmental services, infection control, and operations or administrative management to ensure consistent quality of cleaning and adequate staffing for infection prevention. When following the recommended steps, daily cleaning of an occupied patient's room should take 25-30 minutes and a "terminal clean" after a patient is discharged or transferred should require 40-45 minutes on average.
When it comes to cleaning times for other types of facilities, there are several sources available for guidelines on production rates. The most widely used are published by industry associations such as the Official ISSA Cleaning Times & Tasks. Cleaning times are built using five components: task, tool, time, total units, and training. When different equipment, tools, and technologies are used, cleaning times can identify efficiencies. Budgets for labor and workflow can be estimated based on cleaning tasks and the time it takes to complete them.
EC: Are there cleaning tools or technologies available that might help expedite processes and disinfect more effectively?
DH: Many studies have shown that some surface disinfection methods can be sub-optimal due to inefficient or ineffective delivery systems. According to the EPA, over the last few years, electrostatic spray technologies have emerged as a far more efficient way to apply liquid disinfectants to hard non-porous surfaces than conventional spray bottles or cloths. Surfaces that would normally go unnoticed can be reached with this type of delivery system. Electrostatic sprayers eliminate barriers to effective disinfection and enable cleaning professionals to disinfect a higher percentage of surfaces rather than just high-touch areas. However, electrostatic sprayers alone won't disinfect surfaces without an EPA registered disinfectant and should only be operated by a qualified technician.
EC: How important is education and training to infection prevention outcomes?
DH: The people on the frontline can be called Housekeepers, Cleaning Techs, Custodians, Environmental Services, or other titles but, whatever the title, the job of controlling and preventing the spread of infections is critically important in healthcare and everywhere else. The best processes could fail if the people who implement them struggle with poor training, not enough time, lack of proper equipment, or other deterrents. Certified Hygiene Specialists must be well trained by an accredited program, educated on the transmission and prevention of diseases, equipped with "best in class" tools to clean, sanitize and disinfect, and allotted the appropriate time to accomplish all necessary tasks. They must receive continued training to the highest standard to be considered a true cleaning professional.
Have a question or follow-on to Darrel's article? Send us a note!