Your free Monthly Resource for Cleaning and Infection Prevention Insights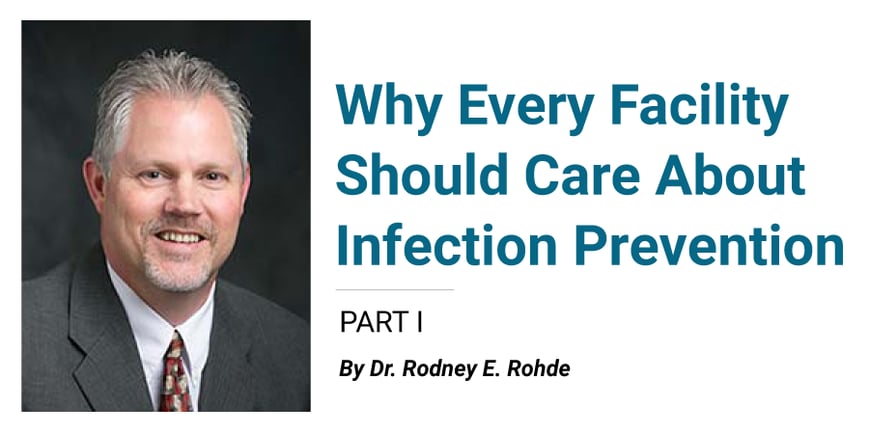 September 20, 2023 | Newsletter
Contributed Column by
Dr. Rodney E. Rohde
EvaClean Insights is privileged to have Dr. Rodney E. Rohde as a guest columnist for a series of articles on infection prevention. Rodney E. Rohde, PhD, SM (ASCP)CM, SVCM, MBCM, FACSc is a Distinguished Regents' Professor and Chair of the Medical Laboratory Science Program at Texas State University. Dr. Rohde is a Global Fellow and certified specialist in virology, microbiology, and molecular biology. As a published author and highly regarded speaker, he is recognized as a global subject matter expert on COVID-19, infection prevention, and other important health topics.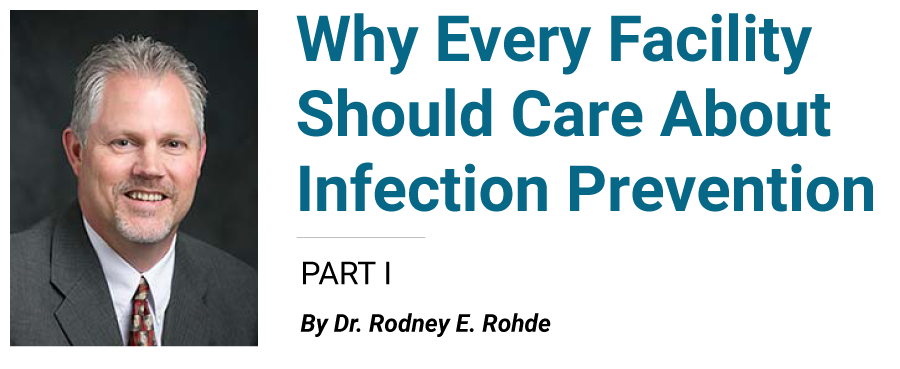 Hospitals aren't the only environments rife with risks of infection. Illnesses are a fact of life that can affect anyone at any time. No matter where an illness originated, it has the potential to spread to others at work, school, or anywhere else. That's why every facility should care about preventing infections.
In Part I of this three-part column, we'll take a hard look at the ramifications of illnesses in non-healthcare sectors including industries who rely on a productive workforce, schools that count on attendance, and businesses whose very reputations are at stake. In part II, we'll pinpoint specific pathogenic threats that cause the most illnesses in certain types of facilities or industries, and most importantly, part III will provide practical strategies for proactive infection prevention.
The Burden of Illnesses
Most people spend at least a third of their lives at work where they stand a greater chance of exposure to biological agents like viruses, bacteria, and fungi that cause illnesses. Though most employers try to provide a safe working environment, occupational diseases abound, some of which can have long-term health consequences for employees as well as pose significant financial burdens on businesses.
Missed workdays are a good indicator of the scope of impact that illnesses can have. Influenza alone is responsible for the loss of about 111 million workdays a year, costing U.S. employers approximately $11.2 billion annually.
In 2021, private industry reported a median of 12 to 13 missed workdays due to viruses other than Covid, with higher numbers in select verticals such as manufacturing, construction, transportation, and warehousing. Public facing businesses are susceptible to the same risks and losses as private industry but have the added pressure of keeping reputations intact to keep patrons coming back. 75% of consumers will not visit a restaurant with negative reviews about its cleanliness. Customer confidence means everything in food services, hospitality, retail, and other public venues.
In education, illnesses that cause absenteeism can have far-reaching implications for schools, students, and staff. Teachers in the U.S. miss about 9 or 10 days annually, which not only impacts learning but costs schools an estimated $25 billion or more per year. When combined with chronic student absenteeism due to poor health, costs skyrocket.
The good news is most illnesses are preventable when proactive measures are in place. Though protecting health is the number one reason to take preventative action, it literally pays facilities to elevate hygiene practices to prevent the burden of illnesses.
---

Introducing New Spill Cleanup Absorbents from EarthSafe
Like EvaClean, EarthSafe Chemical Alternatives is known for developing safer, more eco-friendly cleaning solutions. In response to the growing demand for natural yet powerful spill cleanup solutions, EarthSafe launched a full line of products with FlashDry organic coconut coir absorbent at its core. The new absorbent collection includes pads, socks, spill mats, and Rapid Response Spill Kits with or without FlashDry natural absorbent.
Whether cleaning up spills and leaks, mitigating floods, or addressing environmental disasters, FlashDry Industrial Absorbent and Spill Cleanup Solutions get the job done more efficiently, effectively, economically, and safely.
Browse the new FlashDry line here.
---
A Word from our Aviation Expert
Meet Michael Culver, our lead aviation distributor partner. As a pilot with many years of experience in all aspects of the industry, Michael shares key aviation challenges and provides insights on solutions.

Aircraft hygiene became a top priority during the pandemic and ultimately changed cabin cleaning protocols forever. Yet, the necessity for quick turnarounds between flights remains the same. This is one of the many reasons I partnered with EvaClean. Their solution combines the efficacy and safety of PurTabs disinfectant with the speed and coverage of Protexus Electrostatic Sprayers for whole-cabin disinfection in mere minutes.
Another challenge the aviation industry regularly faces are Jet fuel spills on the tarmac. The most common absorbents are clay or silica which can damage aircraft engines and are hazardous to health. To help make spill cleanup safer, I partnered with EarthSafe whose FlashDry Organic Coir Absorbent is 100% natural as well as extraordinarily fast and efficient.
EvaClean and EarthSafe offer game-changing solutions to many aviation challenges, while also enhancing sustainability initiatives and supporting the industry's focus on duty of care."
Learn more about our aviation solutions here.