Your free Monthly Resource for Cleaning and Infection Prevention Insights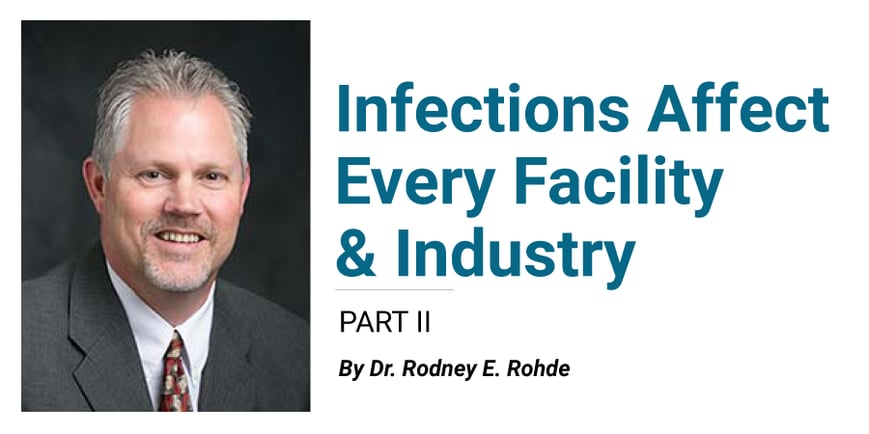 October 23, 2023 | Newsletter
Contributed Column by
Dr. Rodney E. Rohde
We are deeply honored to have Dr. Rodney E. Rohde as a guest columnist in EvaClean Insights. Rodney E. Rohde, PhD, SVCM, SMCM, MB (ASCP)CM, FACSc is a Distinguished Regents' Professor and Chair of the Medical Laboratory Science Program at Texas State University. Dr. Rohde is a Global Fellow and is a certified specialist in virology, microbiology, and molecular biology. As a published author and highly regarded speaker, he is recognized as a global subject matter expert on COVID-19, infection prevention, and other important health topics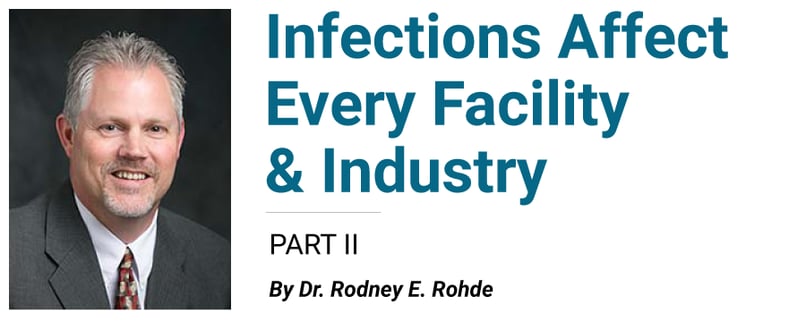 Contagions exist everywhere, not just in healthcare. As is often the case, people may be contagious before they realize they are sick. Infections are easily spread through contact or by touching contaminated objects or surfaces. Virtually any facility where people gather presents a risk for exposure but, because each environment is unique, some are more susceptible to certain pathogens than others. Understanding which pathogens cause the most illnesses in your facility is half the battle — The other half is finding ways to reduce risks, a topic that will be addressed in Part III of this series.
Education
Schools and universities are susceptible to many bacterial and viral diseases, particularly during cold and flu season. Influenza, rhinovirus (common cold), and norovirus affect over 50 million students in 130,000 K-12 schools, as well as 19 million students in 5000 colleges and universities in the U.S. Last year, RSV cases were five-times higher than the previous season. Daycares and Pre-K facilities are also reservoirs for infection with children often showing 10-12 respiratory infections in the first year.
Hospitality
Foodborne illnesses are among the biggest threats in the hospitality industry, accounting for over 3000 deaths and more than 100,000 hospitalizations per year. The most common contaminants include E. coli, Salmonella, and Listeria, while Staphylococcus bacteria is the most prevalent cause of food poisoning. In the cruise business, ships are notorious for Norovirus outbreaks.
Manufacturing
Respiratory illnesses are one of the leading occupational hazards, particularly in the manufacturing sector. Many workers develop asthma, while others contract more serious illnesses, such as pneumonitis and tuberculosis (TB). Dermatitis is common in factory settings, accounting for up to 20% of all occupational diseases in the U.S.
Sports & Fitness
Gyms and athletic facilities often harbor bacteria that causes skin infections such as Staphylococcus and MRSA (an antibiotic resistant form of Staph), which can be easily spread in locker rooms and touching contaminated equipment. In contact sports, players are vulnerable to bloodborne pathogens like HIV. However, more illnesses are caused by respiratory viruses than all other diseases combined.
First Responders
Due to the nature of their occupations, police officers, firefighters, and EMS teams often work in environments where they may be exposed to a plethora of different infectious diseases from influenza and TB to C-Diff (Clostridioides difficile) and HIV.
Construction
At construction sites, biological hazards such as animal droppings and mold growth are common and can put employees at risk for avian influenza, Swine flu, respiratory infections, and other illnesses. When working in water damaged structures, crews may also be exposed to waterborne contaminants like Hepatitis.
Retail & Food Service
While contamination often originates further up the supply chain, it frequently occurs in grocery stores and dining establishments as well. Of the estimated 48 million annual foodborne illnesses in the U.S., approximately 1.4 million cases and more than 400 deaths are due to Salmonella. The FDA reports over half are associated with restaurants. Moreover, eating Listeria contaminated food causes roughly 1600 infections and 260 deaths every year.
Warehousing & Logistics
The shipping and transportation industry can play a significant role in spreading pathogens from one location to another, whether carrying contaminated materials or infected personnel. In addition to supply chain hazards, warehouse workers are often exposed to bloodborne pathogens from contact with bodily fluids.
Offices / Commercial Facilities
Influenza is one of the most invasive workplace illnesses. Per the CDC, the flu virus can live on hard surfaces for up to 24 hours and can spread quickly if surfaces are frequently touched. However, there are also lesser-known pathogens that pose even greater threats. Here are just two examples. It is estimated that up to half of all adults are colonized with Staph and approximately 45 million buildings contain unhealthy levels of toxic mold.
Janitorial Personnel
OSHA does not generally consider custodial staff in non-healthcare facilities to be at risk for occupational exposure. Yet, they are the first line of defense when it comes to facility hygiene. Thus, it stands to reason that janitorial personnel are equally if not more at risk for infections than anyone else in the same industry sector.
Important Note: Infections related to Covid-19 and all its variants can impact any facility and industry.
---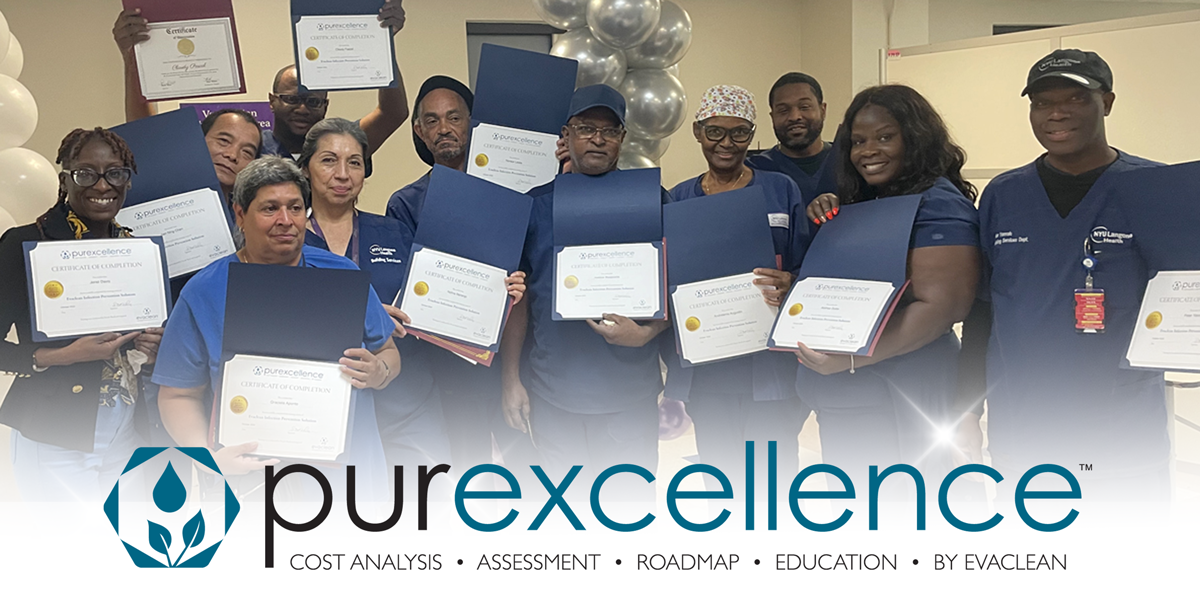 PurExcellence Infection Prevention Certification
In 2021, EvaClean introduced PurExcellence, one of the first infection prevention programs of its kind. PurExcellence is about partnering to improve processes and reduce HAIs through science-based education and safer, more effective solutions. Today, top healthcare partners have earned the distinction as a PurExcellence Certified Hospital after 100% of EVS staff were trained by the EvaClean Healthcare Team.
To learn more about How PurExcellence Partnerships work and why PurExcellence Certification is important, visit our new Training resource page.