Your free Monthly Resource for Everything Infection Prevention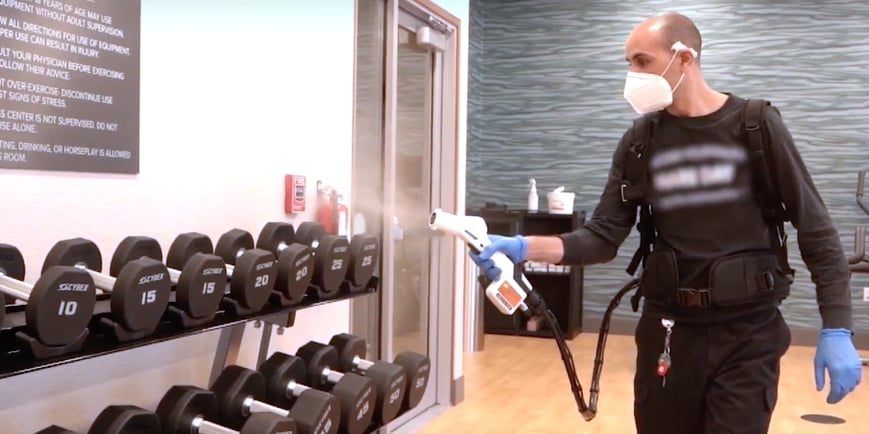 February 7, 2023 | Newsletter
10 Steps to Preventing Respiratory Virus Transmission (RSV)
Across the country, influenza and RSV cases are rising even as Covid continues to claim an estimated 400 lives each day, creating an unprecedented "tripledemic" of highly contagious viruses. In keeping with our mission to enhance the health and safety of facilities in every industry, we've developed a resource page with guidance on respiratory virus infection prevention.
Read about the risks of contaminated surfaces and the 10 steps you should take to prevent surface transmission of respiratory viruses here.
You can also shop our recommeded PurOne chemistry to start your prevention best practices now.
---
Introducing The Clean 13
Thirteen Ways EvaClean Surface Wipes Benefit Facilities
Why are facilities choosing to use EvaClean Disposable Surface Wipes for cleaning and disinfection instead of other wiping products? The Clean 13 provides facilities a baker's dozen in benefits that result in higher levels of safety, sustainability, productivity, and protection against pathogenic threats on surfaces.
1. Larger Sized - EvaClean dry wipes are over-sized (11x12) compared to most other wipes to clean more surface area in less time.
2. More Wipes per Roll - EvaClean wipes are a lighter spun lace technology that yields more wipes per canister and greater cost efficiency.
3. Prevents Transmission - EvaClean wipes when combined with PurOne Disinfectant eradicate most every contagious pathogen on contaminated surfaces, including biofilm, to stop the spread of infections.
4. Durable Performance - EvaClean wipes are composed of durable viscose/PET for higher performance.
5. No Cross-Contamination - EvaClean disposable environmental surface wipes eliminate risks of cross-contamination.
6. Reusable & Refillable - EvaClean wipes canisters are reusable and refillable to reduce waste and raise sustainability
7. Precise Solution Load - EvaClean dry wipes distribute the precise amount of solution per wipe to reduce chemical overuse.
8. Never Expire - EvaClean dry wipes never expire resulting in less product loss and lower costs.
9. Customizable Chemistries - EvaClean dry wipes are customizable for use with other chemistries or with our PurOne Cleaner/Disinfectant.
10. One-Step Solution - EvaClean dry wipes together with PurOne is an all-in-one, one-step solution for many cleaning and disinfecting needs.
11. Accurate Dilution - EvaClean dry wipes used with PurOne tablets ensure the most accurate solution strength every time.
12. Checks Every Box - EvaClean dry wipes and PurOne NaDCC chemistry checks every box for safety, efficacy, and sustainability.
13. For Every Industry - EvaClean Environmental Surface Wipes work well for every industry application.
Shop our dry large or small surface wipes now.
---
New Video Conveys Full Scope of Benefits
EvaClean was started out of a desire to enhance the health and safety of facilities around the world – only without the long cleaning schedules, harsh chemicals, and bulky products. We've developed the most powerful and reliable cleaning and disinfection system available to create a safer, healthier world at a lower cost.
Infection prevention for healthcare facilities will always be a primary focus. However over the last few years, we've built Jan/San partnerships with facilities across every industry from government and public safety to schools, travel and many others. To portray the breadth of our knowledge and experience, we're kicking off the new year with a new video highlights the full scope of benefits our solution offers.
Our unique NaDCC chemistry, disposable wipes system, and advanced electrostatic technologies, which make cleaning and disinfection simpler, more sustainable, and cost effective. PurTabs and PurOne are safer yet are EPA registered to inactivate virtually every virus, bacteria, fungi, or pathogen that may emerge. Protexus Electrostatic Sprayers disinfect faster and more completely with less labor while also reducing chemical usage. EvaClean's customized training and protocols ensure process improvement and better outcomes to save lives while also saving money.
EvaClean – Infection Prevention Solutions for Everyday Life
---
Stay in the Loop and Follow EvaClean on LinkedIn
Follow EvaClean Infection Prevention on LinkedIn and join us in making the world safer and healthier in more affordable ways.