Your free Monthly Resource for Infection Prevention Insights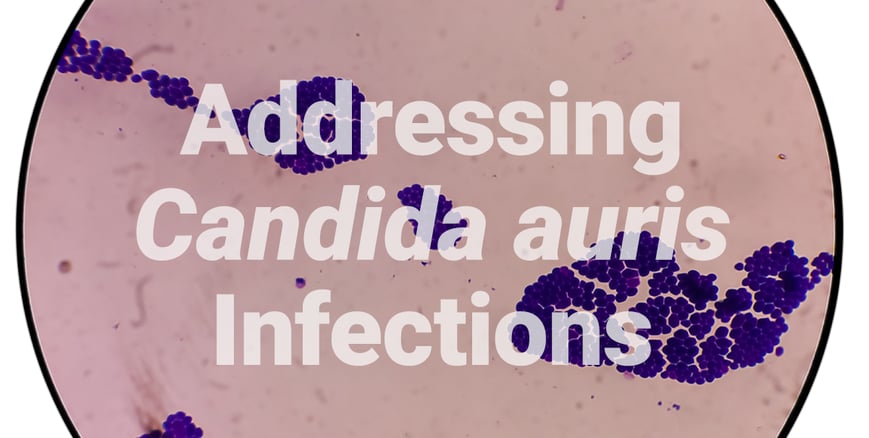 March 9, 2023 | Newsletter
Addressing Candida auris Infections
Candida auris (C. auris) is a multidrug resistant superbug that has become an urgent global threat to patients in hospitals and long-term care facilities. C. auris is primarily spread by contaminated surfaces and objects. It can thrive on surfaces for months in biofilm, making it very difficult to kill without a disinfectant that has an EPA registered biofilm claim.
At least 1 in 3 patients with invasive candidiasis
die within a month of diagnosis.
Healthcare organizations are struggling to contain C. auris infections as environmental contamination sources are not limited to high touch surfaces and objects in patient rooms but can be found in all patient care areas. To mitigate C. auris transmission, facilities must take more proactive steps, which we've outlined in a free guide.
Read 9 Tips for Addressing C. auris Infections here.
---
The Most Innovative Cleaning and Disinfection Tool
Protexus Electrostatic Sprayer technologies have helped revolutionize the cleaning industry by enabling faster, more complete surface disinfection.
Between labor shortages and time limitations, facilities are hard pressed to clean and disinfect thoroughly enough to prevent the spread of contagious diseases. By leveraging Protexus electrostatic sprayers, facilities in every industry sector can accomplish more with less staff, while using fewer chemicals.
Furthermore, as a touchless technology, Protexus helps safety mitigate cross-contamination. Our new video below showcases some of the many benefits facilities receive when they use the most efficient and effective disinfection method available today.
And check out this comprehensive comparison chart that illustrates what make our sprayer better than others.
---

Share Your Stories with Us!
Have a story to tell, feedback or have a suggestion for a topic to cover? Share your thoughts here.