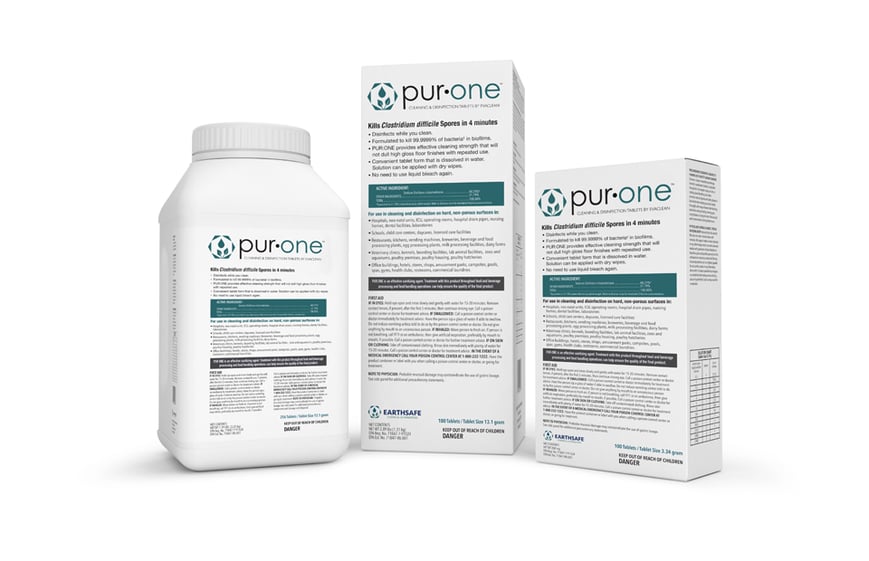 May 23, 2023 | Blog
PRESS RELEASE
Updated Label Makes EvaClean Disinfectant One of the Few with EPA-Registered Claims Against Both Candida auris and Biofilm
PurOne Cleaner and Disinfectant from EvaClean Infection Prevention Solutions received EPA approval of updated master label, adding Candida auris to its existing Biofilm claim and making it one of the only products to be registered as effective against both
---
Braintree, MA – May 2023 – In the last several months, concerns over a dramatic increase in Candida auris (C. auris) infections have arisen in healthcare facilities. An even greater concern is this fungus can form biofilms, which allow it to persist in the environment and be more resistant to common disinfectants.
When EvaClean Infection Prevention Solutions introduced PurOne, it was the first disinfectant to be United States Environmental Protection Agency (EPA) registered against biofilm, which only a handful of products can claim to date. Now, the EPA has approved its updated master label to include a soft surface sanitizer claim, shorter dwell times, and an official C. auris claim, making PurOne among the few products registered as effective against both biofilm and C auris on List P.
"The new label further substantiates how advanced our chemistry is," said EvaClean CEO Steve Wilson. "More importantly, PurOne provides a platform for educating healthcare professionals on the necessity for addressing surface biofilm to truly eradicate pathogenic threats."
Education has always been one of EvaClean's key differentiators, illustrated by the comprehensive cleaning and disinfection training programs provided to healthcare partners. In another example, to assist hospitals in battling C. auris infections, EvaClean partnered with TIPS: The Infection Prevention Strategy to present a free master class webinar on mitigating C. auris and biofilm, which is now available on demand.
Another important upgrade to the new label is considerably faster contact times for over 40 different bacteria, viruses, and fungi, most achieved at lower concentrations. For instance, influenza can be eliminated in just two minutes using 1076 parts per million (ppm) dilution. In addition, PurOne now has an enhanced emerging viral pathogen claim, having proven effective against small non-enveloped pathogens at a lower 2153 ppm concentration.
Though PurOne is a healthcare-grade disinfectant that penetrates biofilm and is effective against bloodborne viruses, Gram-positive and Gram-negative bacteria, it is also one of the rare chemistries that meets the Center for Disease Control and Prevention (CDC) 13 properties of an ideal disinfectant: Broad spectrum antimicrobial efficacy; fast acting; not affected by environmental factors; nontoxic to users and patients; surface compatibility; residual effect; easy to use; pleasant odor; economical; soluble; stable; good cleaning properties; and environmentally friendly.
Kurt Wong, COO of EvaClean said, "PurOne does it all. Lower concentrations and speed of efficacy give hospitals the ability to use one product to clean, deodorize, remove stains, and disinfect facility-wide, from floors to toilet bowls and most everywhere in between, thereby simplifying and improving processes."
PurOne is also a highly effective and cost-efficient cleaning, sanitizing, and disinfecting solution for non-medical environments from office buildings, public transportation, and gyms, to industries from hospitality to public safety. 
For more information on PurOne, click here.
###
About EvaClean
Originally developed by EarthSafe Chemical Alternatives® in 2016, EvaClean® has become the preeminent solution for safer, more sustainable infection prevention. In addition to a portfolio of advanced electrostatic technologies and EPA approved chemistries for electrostatic application and the highest level kill claims, EvaClean provides customized protocols and ongoing training to simplify processes and improve outcomes. Founder and serial entrepreneur RJ Valentine, together with an exceptional leadership team, have built EvaClean into a leading authorities on healthier disinfection across all industry sectors in the U.S. and around the world.
Learn more at www.evaclean.com and follow us on LinkedIn, Facebook and Twitter.