October 1, 2021 | Newsletter
Infection Control and Sanitation News to Use
Welcome to the October 2021 EvaClean Insights, your source for all things infection control, prevention and sanitation.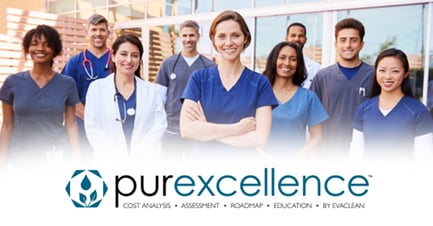 EvaClean Launches PurExcellence Infection Prevention Program for the Unique Standards of Healthcare and Higher Education
Universities, hospitals, medical labs, assisted living and long-term care facilities all share a common denominator in their need for the highest-level cleaning and disinfection possible. EvaClean developed PurExcellence to support the unique standards of these organizations, with a safer, more sustainable infection prevention program that's customized and standardized to simplify processes and deliver guaranteed cost savings of 30%.
Steve Wilson, EvaClean's CEO said, "Our proactive infection prevention solutions go far beyond products. EvaClean has become a trusted advisor and partner of healthcare and higher education organizations, as well as all other industry sectors. PurExcellence combines our deep consultative know-how in the space with our industry-leading products and chemistries."
PurExcellence is a collaborative partnership with environmental services and infection prevention teams. Program implementation starts with a complete analysis of cleaning protocols and chemicals, which establishes a roadmap for custom-designed protocols. The PurExcellence program also provides perennial training and certification for the life of the partnership to help minimize failure points, improve compliance and achieve better outcomes.
PurExcellence Prioritizes Safety and Sustainability
Safety is the core focus of the PurExcellence Program, beginning with EvaClean's less toxic NaDCC chemistries that inactivate over 55 known organisms in addition to new and emerging viral pathogens. Safety is further enhanced by EvaClean's advanced technologies including touchless electrostatic sprayers and disposable environmental surface wipes, both of which prevent cross-contamination. EvaClean's solution also promotes long-term sustainability with biodegradable chemistries in tablet form for minimal environmental impact, as well as more efficient disinfection technologies that use less chemicals.
EvaClean built the PurExcellence program on 6 key pillars—Assessment, Standardization, Education, Safety, Sustainability, and Guaranteed Cost Savings. Together, they form the foundation for true infection prevention partnerships in healthcare and higher education.
EvaClean PurExcellence Partner Spotlight

EvaClean is proud to launch PurExcellence with partner MelroseWakefield Hospital, a Wellforce member. Our client-partner, Alan Rothstein, Director of Environmental Services at MelroseWakefield Hospital shares his thoughts on why he selected EvaClean's PurExcellence to advance their infection prevention systems.
"We have partnered with EvaClean and their PurExcellence Program to standardize and provide safer solutions for our patients and staff."
MelroseWakefield is a 174-bed hospital that provides a wide range of services to the Boston community.
EvaClean is currently designing customized protocols to help them eliminate inefficiencies in the clinical arena, and, most importantly, reduce the frequency and severity of HAIs.
Gabriella Cimarelli, EvaClean's Director of Account Development who works closely with MelroseWakefield said, "We designed the PurExcellence Program with true partnership in mind. Not only does PurExcellence focus on safety and sustainability, but we provide ongoing training and education for the life of the program."
EvaClean looks forward to a very successful PurExcellence partnership with MelroseWakefield.
UPDATED EvaClean Infection Prevention Fall Convention Calendar
Look for us or one of our distributor partners at the following conferences. You can also use sales@earthsafeca.com to book your onsite appointment.