Your free Monthly Resource for Everything Infection Prevention
October 31, 2022 | Newsletter
Free summary now available - NYU Langone Health Study on Surface Disinfection
Be among the first to learn new data that could change the future of disinfection in healthcare.
Earlier this year, NYU Langone Health published the findings of a study in the American Journal of Infection Control confirming the efficacy of PurTabs as well as Electrostatic Sprayers for reducing pathogens on patient room surfaces. However, because the full study was not made readily available to the public, we developed a free reference summarizing the key details. It describes the surface disinfection challenges in patient care areas, the study's objectives and design, disinfectants and application methods, and the results including NaDCC disinfectant and application efficacy and overall conclusions.
---

New Innovative Mold Remediation Kit
EvaClean and EarthSafe unite to create new OnePro Mold Remediation Kit that combines the best of their solutions.
In response to severe flooding around the country, the sister companies worked together to develop a solution to protect homes and businesses from devastating mold damage. Though both companies are renowned for providing safer ways to solve tough cleaning challenges, this is the first time they have combined chemical technologies. The result is the OnePro Mold Remover & Protectant System, a safer, more effective remediation solution that stops damage before it starts.
"We're all about proactive prevention," said EarthSafe CEO Steve Wilson. "In an emergency, it can take a remediation contractor several days to get to a facility or home, during which time extensive mold damage will have already happened."
OnePro is designed to start working before mold begins to develop, even while water is still present or receding, significantly reducing the risks for exposure and potential for damage. It combines EvaClean's PurOne premium hospital-grade Cleaner & Disinfectant with EarthSafe's XMold Pro Polymer Coating, first killing and removing mold and mildew in one step, then sealing surfaces to inhibit growth.
With the introduction of OnePro, EarthSafe and EvaClean make it possible to eradicate mold and keep it from coming back or better yet, prevent it from ever growing in the first place.
Learn more about the new OnePro Mold Remediation Kit here or reach out to us for a free sample here.
---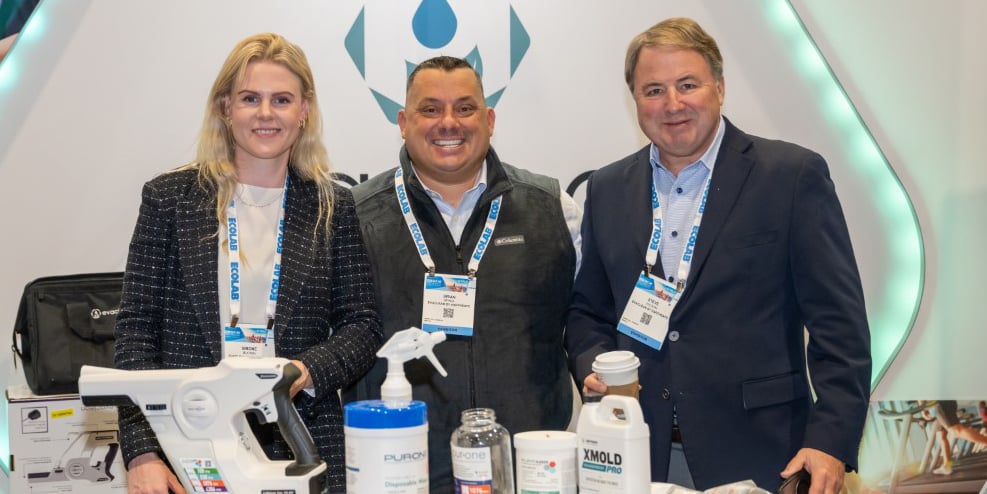 Success at ISSA 2022!
We had a great time reconnecting with old and new customers at ISSA 2022! The show gave us a perfect opportunity to listen and learn from a broad range of feedback about industry trends and our products.
This year, we noticed the emergence of two important themes: 1) A growing demand for more environmentally friendly and sustainable cleaning chemicals, and 2) A facility-wide need for safer solutions that help clients navigate evolving cleaning/infection challenges and simplify the process for managers and teams.
Our EvaClean infection prevention solution continued to receive positive feedback. Attendees were consistently interested in understanding how we can partner to create customer solutions no matter what kind of facility. Also, our new OnePro mold cleaning and remediation kit received positive initial feedback. Reach out to us if you want free samples or a demonstration of how our OnePro is safer, more sustainable and cost-effective.
Thank you to all who stopped by our booth!