Your free Monthly Resource for Everything Infection Prevention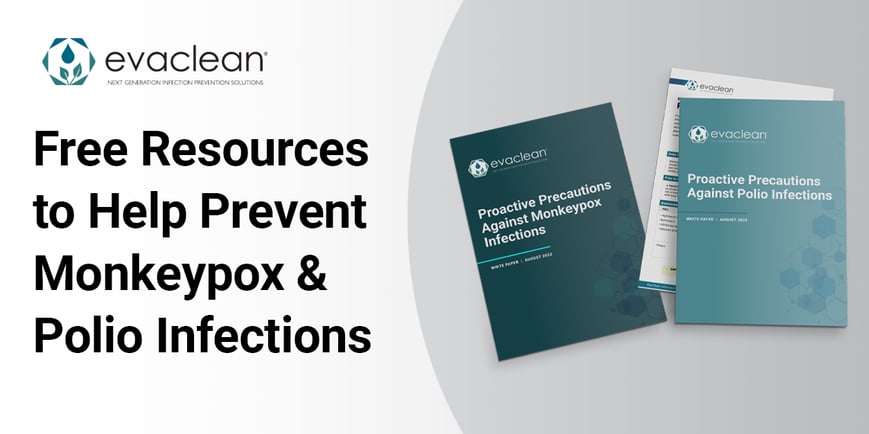 August 24, 2022 | Newsletter
Free Resources to Help Prevent Monkeypox and Polio Infections
We've created a resource center that contains free white papers and usage guides for healthcare and non-healthcare facilities. These documents provide valuable information on proactive precautions for reducing the risk of infections.
Our NaDCC cleaners and disinfectants are EPA registered with the highest-level emerging pathogen claim on List Q as effective against Monkeypox and have an EPA registered claim against Polio. PurOne and PurTabs, along with our Protexus Electrostatic Sprayers, Disposable Wipes System and proven protocols, can protect your facility from these emerging and re-emerging viral pathogens.
---
Did you hear the results of the NYU Langone Surface Disinfection Study?
In July we announced findings from a major study conducted by NYU Langone Health in partnership with EvaClean, comparing disinfectants and application methods.
The study proved PurTabs was the best sporicidal as it produced significantly lower colony counts than the other disinfectants. In addition, PurTabs applied with standard microfiber cloth and mop plus an electrostatic sprayer was the most effective disinfectant application method.
---
Infection Prevention Expert
Q & A

Part III
with Darrel Hicks
Find out why the choice of disinfectant is one of the most important decisions any facility can make from industry leader J. Darrel Hicks, BA, MESRE, CHESP, CMIP. Hicks is past President of the IEHA and the Healthcare Surfaces Institute (HIS), and a current member of the HIS Surface Certification Program.
---

Our
Fall 2022 Conference Calendar
Make an appointment to meet with us or one of our Distributor Partners at any of the forthcoming conferences.
September
APIC California Chapter
September 16, 2022 • Temecula, CA
Imperial Dade Healthcare Summit
September 23 • Meadowlands
OCTOBER
Direct Supply Senior Living Event
October 6, 2022 • Milwaukee, WI
ISSA Show North America
October 10–13 • Chicago, IL • Booth #3049
NOVEMBER
APIC CDS Conference
November 10 – 11, 2022 • Boston, MA